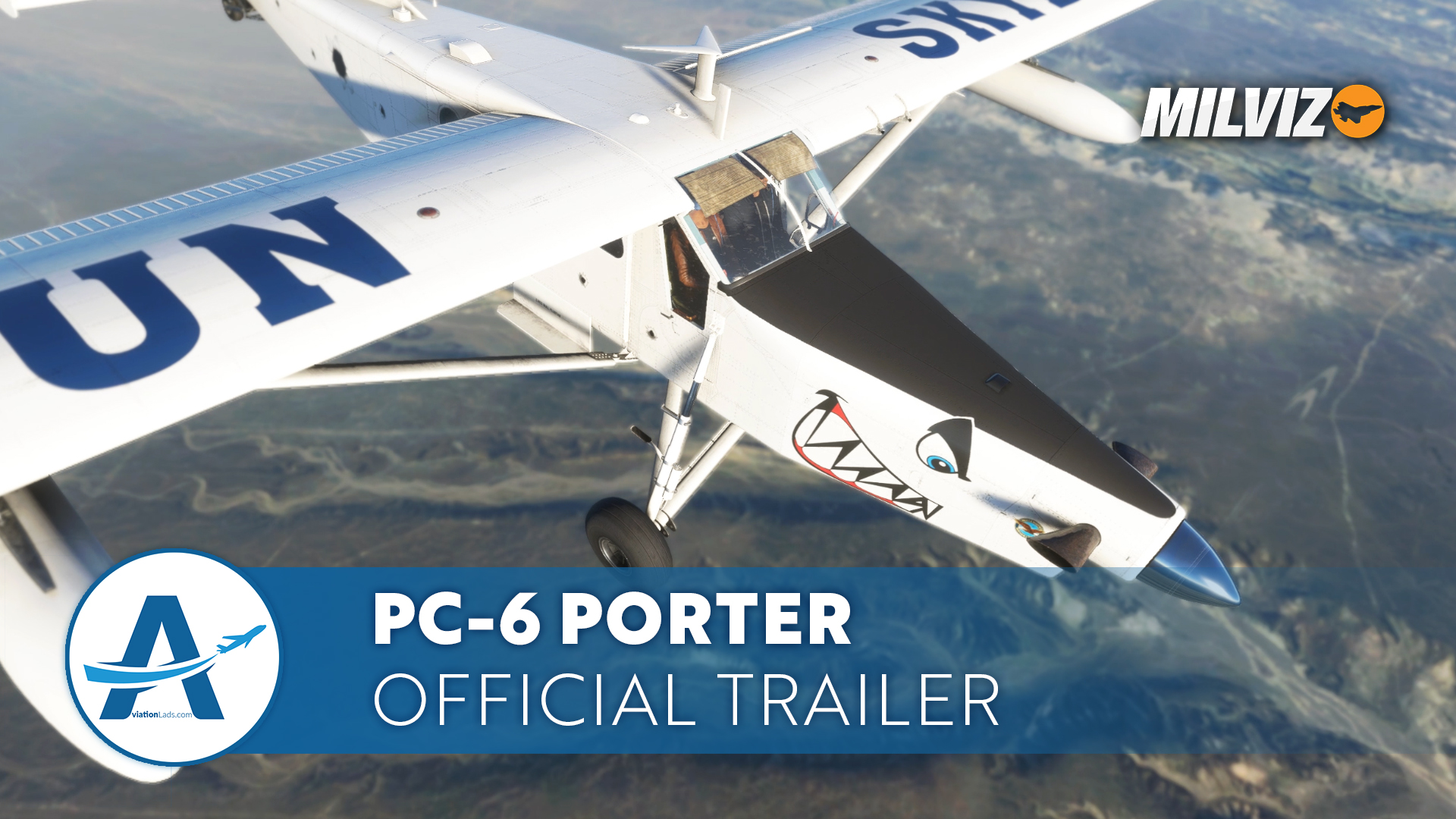 [TRAILER] MilViz PC-6 Porter
MilViz Military Visualizations released their highly accurate rendition of the PC-6-Porter aircraft! Get ready to explore this in Microsoft Flight Simulator 2020!
PC-6 Porter for Microsoft Flight Simulator
The PT-6A equipped PC-6/B Turbo-Porter first flew on May 1st 1964, three years after the Turboméca first turbine powered prototype and four years after the original underpowered Lycoming flat six PC-6/340.
During a production run which ended in 2019, the Turbo-Porter proved itself a highly capable and versatile utility aircraft, finding favour with civilian and military operators throughout the world.
We learned a lot making our first aircraft for MSFS2020, and we are determined to make each release stretch the envelope of what is possible within the the base platform limits.
Second aircraft for 2020
Building on our experience in MSFS2020 with the FG-1D Corsair, we have managed to bring more features, a deeper immersive experience, and more fun to the Porter.
The accurate and highly detailed 3D model blends delightfully with the visual realism offered by MSFS2020. You can tell we're proud of it right? But it's the flight model of which we are especially proud.
Working with real-life Porter pilots has let us get down to the nitty-gritty of perfectly emulated performance. We know you want to do that tricky stuff like beta braked short runway shenanigans as per Air America, or slow diving with skydivers, and the good news is that with the Milviz PC6, you can!
Pull the power lever down to engage Beta mode and turn that huge prop into a barn-door air brake. Lift the lever over the gate and the prop will reverse pitch – for ground use only! It all works just like the real thing!
More fun
What is in that mysterious crate in the back?
We don't know! But we do know you can drop it out of the cargo door in the fuselage floor.
The default checklist system has been tweaked to allow completion from outside the aircraft. We hope you will agree that it is much more satisfying to remove those reds 'by-hand' rather than clicking on a checkbox.
MAIN FEATURES
High resolution interior and exterior model, with high quality PBR (Physically Based Rendering) materials used for realistic effects and reflections.
Detailed animations throughout the aircraft, including cabin and cockpit doors, storm window, trap doors, windshield blinds, instrumentation, and more.
External interactive details such as chocks, tie downs, and covers lend a sense of purpose and immersion to your start-up and shutdown experiences.
Skis can be outfitted on the PC-6 to allow for exciting adventures off of the beaten path!
Functional trap doors complete with the visual effect of dropable cargo!
Configurable external fuel tanks with properly emulated fuel pump behaviour and annunciations.
Dynamic and fully adjustable cockpit and cabin lighting for atmospheric night flying.
Professionally recorded sound set from a real world PC-6 specifically for this release so as to provide the utmost in immersion.
Fully supports MSFS visual icing effects. The PC-6 is not rated for flight into known icing conditions, so be cautious!
Two distinct cabin configurations for hauling either passengers or cargo.
Highly detailed tablet is present in the aircraft to allow for in-depth configuration of your flight, including randomized passenger loads and a dynamic cargo system which adjusts the loaded weight and visual appearance in an intuitive manner.
Fully interactive checklist based on proper standard procedures for the PC-6. Includes custom camera behaviour for 'walkaround' interactivity with external aircraft elements!
Accurate flight behaviour, including realistic stall modelling and beta simulation. Beta mode can be entered into under correctly controlled circumstances while in flight to allow for heart stopping dives while staying within the allowable range for flaps extension.
Correctly replicated turboprop start up requirements have been implemented, allowing for varying ITT temperatures, up to and including catastrophic hot starts!
Engine behaviour has been tuned and tested within the limitations of the default turboprop simulation to allow for a believable and approachable emulation of the well known PT6A-27.
Custom skydiving altimeter included in the passenger configuration which is able to be zeroed to field elevation.
Equipped with default avionics (G1000, KAP140, KR87 ADF) to allow for a wide range of functionality while providing a path for future simulation capabilities.
10 HD liveries
MINIMUM SYSTEM REQUIREMENTS
Supported Operating System: Windows 10

Processor:
Intel i5 or AMD equivalent 2.6 Ghz or higher

Memory:
16 GB RAM

Graphics:
DirectX®11 compliant video card
8 GB video RAM or higher

Important:
All MilViz products require a functioning gaming controller such as a joystick for proper operation.