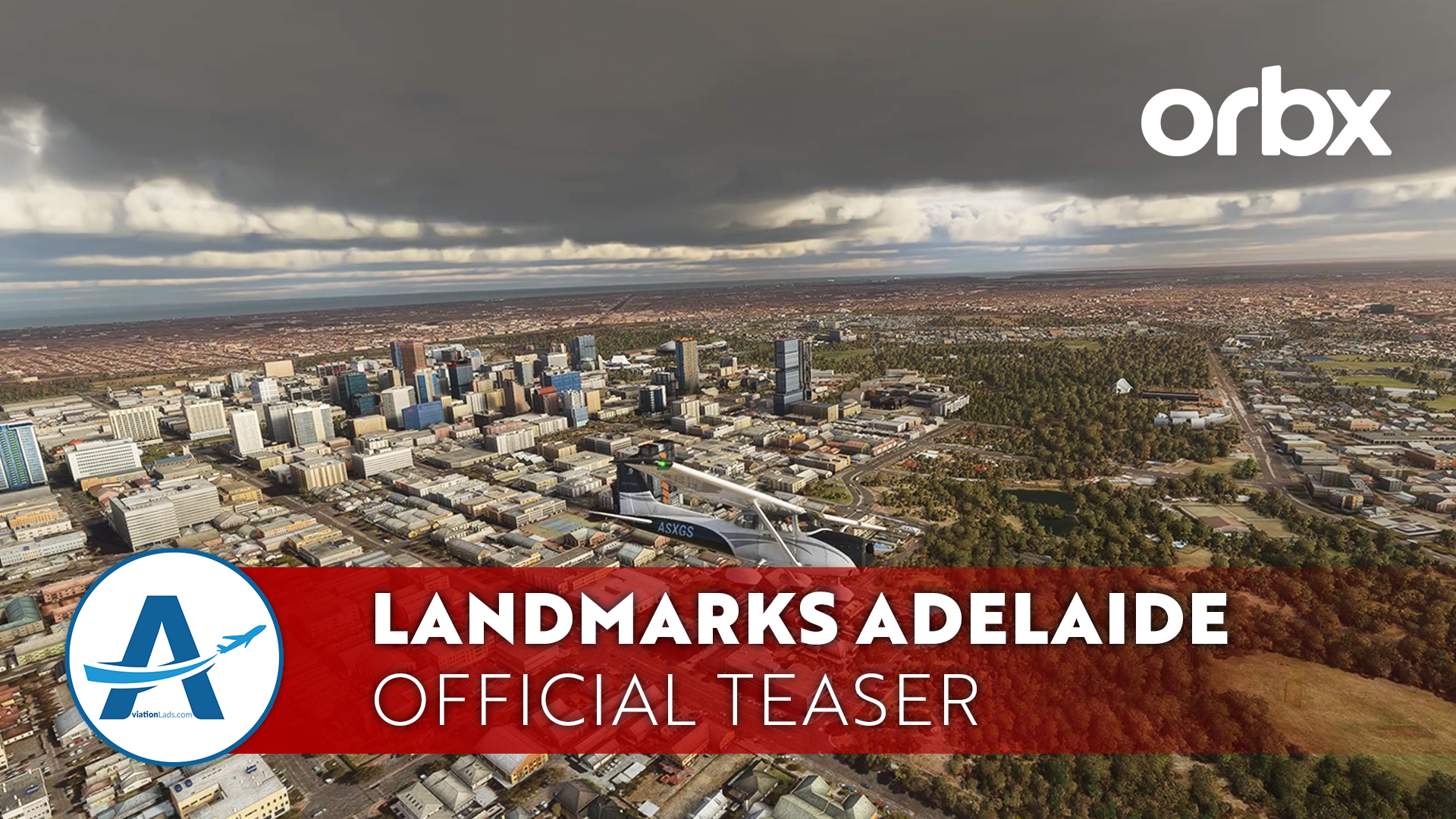 [TEASER] Orbx Landmarks Adelaide
ORBX releases Landmarks Adelaide! Get ready to explore this in Microsoft Flight Simulator 2020!
Landmarks Adelaide City Pack – for Microsoft Flight Simulator 2020
Landmarks Adelaide City Pack is an exciting new addition to our top selling Landmarks and Cityscape series for Microsoft Flight Simulator, which includes classic locations such as Sydney, Singapore, London, Brisbane and Paris.
Adelaide is known for its picturesque coastline, diverse architecture, murals and rich natural surroundings, and the Orbx City Pack brings this character filled city to life for Microsoft Flight Simulator.
Over 90 stunning landmark buildings and structures are ready for you to explore across the city of Adelaide and beyond. Nearly 100 sq km of custom orthoimagery beautifully depict the busy downtown areas, ports and the unique salt evaporation ponds.
Take a trip over the famous wine regions and absorb all the beauty of Barossa Valley and the scenic McLaren Vale during the day. As the sun sets, watch as the night-lighting fills the metropolitan areas that stretch along the scenic coastlines. Escape the hustle of the city and fly low over the quaint St Vincent Gulf shoreline.
South Australia's first state heritage area is just one point of interest that has been included, with intricate detail to fully immerse yourself and discover the historic Port of Adelaide. Adjacent to this are Adelaide's distinctive industrial areas and tank farms.
In true Orbx style, our Landmarks technology extends beyond the city and into the surrounding areas for the ultimate experience. With extensive terraforming across the entire coverage area, our custom landmarks and vegetation blend seamlessly making the flying experience super realistic and immersive.
Landmarks Adelaide joins our downunder cities of Sydney and Brisbane to give simmers around the world the ultimate flight adventure in Australia.
Expand your horizons with the Orbx experience today!
MAIN FEATURES
More than 90 custom landmark buildings and structures
Many enhancements to the city and surrounding areas: improved vegetation and building placements, marinas, tall powerline towers, etc.
Detailed representation of the Port of Adelaide and adjacent tank farms and industrial areas
Extensive terraforming across the coverage area, enhancing how our custom landmarks sit within the simulator's terrain.
Custom orthoimagery (~100 sq km) for the downtown and port areas as well as the St Vincent Gulf shoreline and salt evaporation ponds
Custom night lighting based on real-world photography
MINIMUM SYSTEM REQUIREMENTS
Supported Operating System: Windows
Prerequisite Products: none