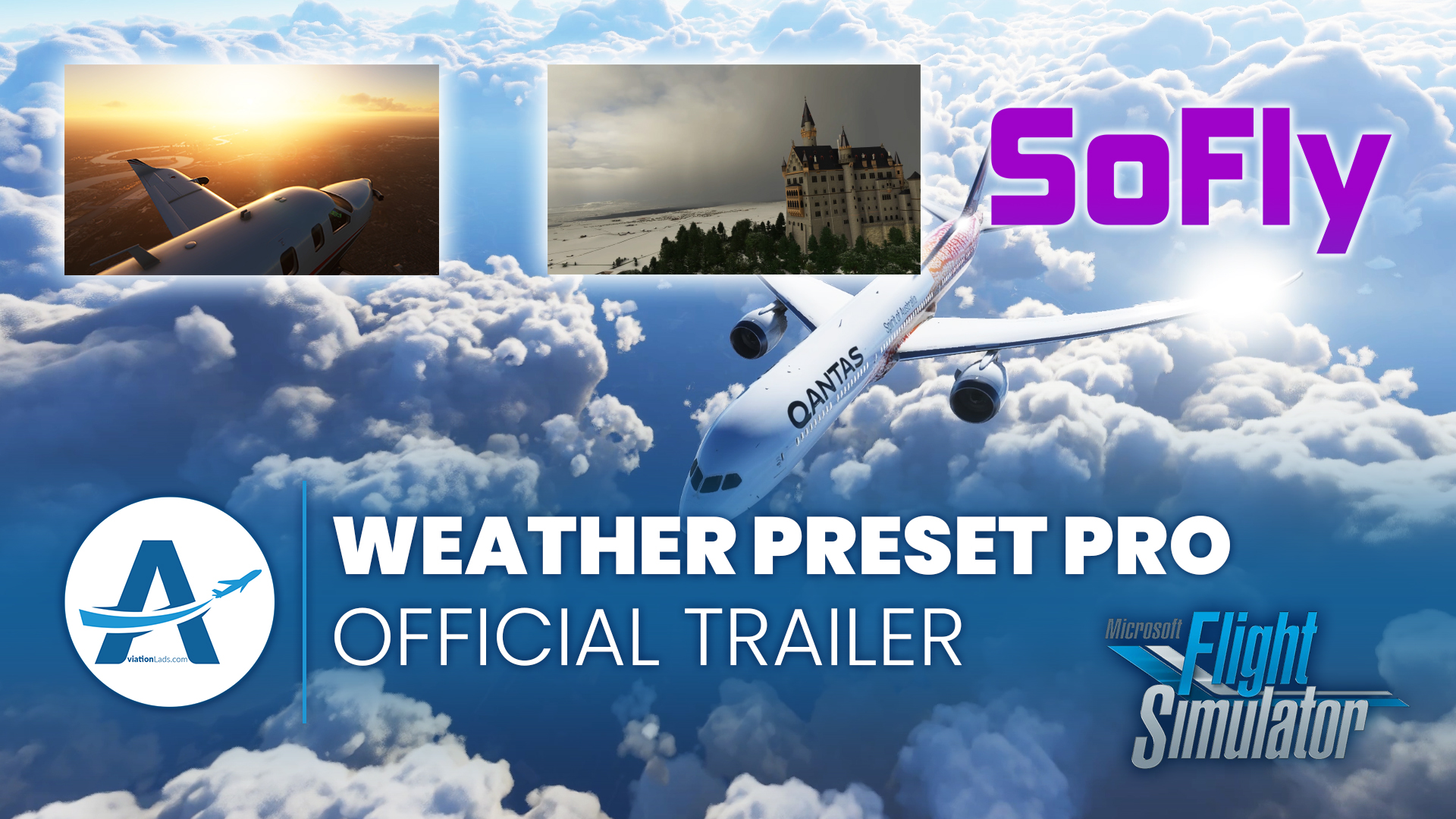 [TRAILER] SoFly – Weather Preset Pro
Time for awesome visuals! #SoFly Weather Preset Pro adds over 40 awesome weather presets to your #MSFS2020.
Weather Preset Pro –
Introducing Weather Preset Pro
The weather engine in Microsoft Flight Simulator adds truly dynamic scenes to the world. However, the number of presets in the simulator by default are lacklustre with plenty of scope to improve it. Whilst making a preset can be done by anyone, it takes time and dedication for someone to create them, hence why I think Weather Preset Pro is the perfect solution to that.
Weather Preset Pro adds over 40 custom made presets that cover a wide range of weather types and scenarios. Many of the presets go beyond what can be achieved through the built-in system by adding even deeper snow layers, reduced visibility and increasing the amount of precipitation. This enables users to experience much more realistic storm scenarios, opens up the possibilities for sandstorms and also helps to reduce visibility for those CAT III approaches.
Weather Preset Pro is perfect for those who are looking to recreate breathtaking weather conditions anywhere in the world. Have a blizzard sweep across humid destinations or a Tropical Storm take place in the heart of London. All of the changes can be made on-the-fly from within the simulator without the need for an additional application.
Finally, as with anything released under the SoFly banner, there is an element of education. The included 20-page guide will feature detailed information on how to read weather strips, understand various cloud formations and more to help newcomers better understand the challenges a pilot can face in some of these tough conditions.
MAIN FEATURES
Perfect for content creators to achieve great visuals within seconds!

Over 40 presets covering a range of exciting weather types

Custom made presets that go beyond the built-in system

Create exciting scenes directly in the simulator without the need for an additional UI

Simple installation using a dynamic installer

A 20-page manual covering all variations and an introduction to weather systems

Challenging weather presets

Sandstorms

Zero Visibility

Hurricane conditions

Tropical storms

Stunning cloud presets

High-level clouds

Overcast

Big and Bold

Tropical paradise presets

Blazing Sunshine

Calm Winds

Humid Storms

Snow and ice presets

Snow Flurry

Arctic Chill

Blizzards
MINIMUM REQUIREMENTS
Prerequisite Products: none