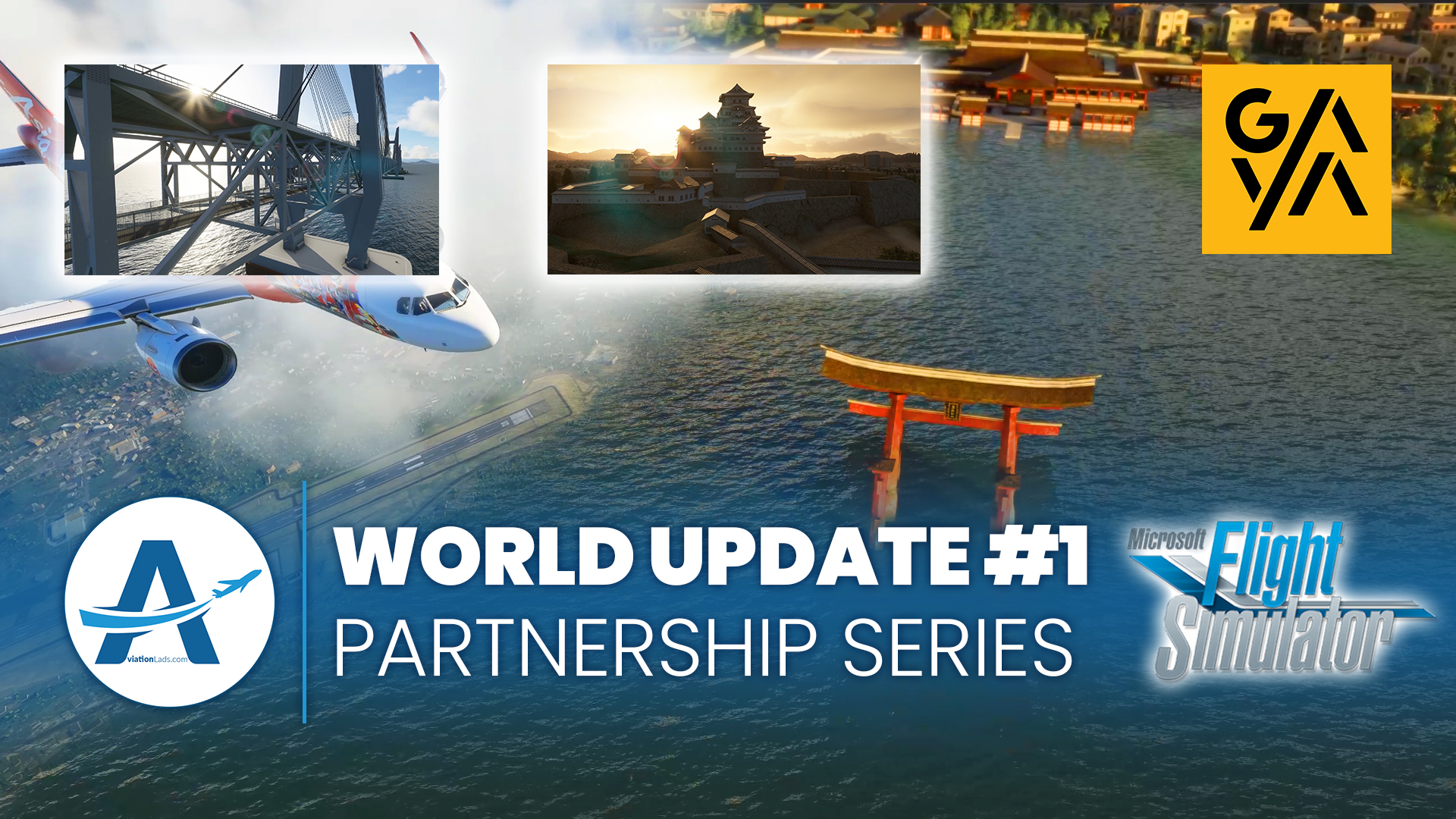 [TRAILER] Partnership Series – Gaya
Are you ready for Japan? World Update #1 for Microsoft Flight Simulator 2020 released – here is the official Microsoft Partnership Series – we are very proud to announce that we have collaborated with Microsoft and Gaya Simulations to produce this trailer.
Partnership Series – Gaya Simulations
For the past few months, Gaya Simulations have been working with Microsoft and Asobo Studio in order to put together 'World Update I: Japan' for Microsoft Flight Simulator. Released as an update to all simulator users, we created three airports and a bunch of new points of interest to go towards Microsoft's project. Be sure to keep an eye out for Nagasaki, Hachijojima and Kushiro Airports – all of which we've upgraded from their default renditions to our class-leading standards. The same quality is applied to the new points of interest, which all look stunning in this new Japan-focused update.
In the world of flight simulators, Immersion is key. Nobody knows this better than Gaya Simulations, a scenery developer and 3D art studio specializing in the authentic recreation of real-life locations. Headquartered in Israel, Gaya is a multinational creative team with artists hailing from across the globe — from New Zealand, Russia, Ukraine, the United Arab Emirates, Greece, Serbia, Finland, the United Kingdom, Venezuela and Brazil. It is this broad diversity that reinforces a genuine appreciation for the world that Gaya so lovingly recreates. Today, Gaya is excited to announce a new partnership with Microsoft Flight Simulator, the most cutting-edge sim experience created to date. With visual fidelity that elevates the genre to new heights, Microsoft Flight Simulator offers pilots an unprecedented opportunity to explore every inch of the planet — and Gaya is thrilled to be part of making the journey even more real.
Gaya began as a company back in 2014, with the release of our first add-on airport – Kilimanjaro. We then moved to Europe and found even greater success with Genoa — a springboard project that helped us grow to the company we are today. Over the years, we have released several projects under the Gaya name, as well as many in collaboration with other clients: East Midlands, Key West, Fresno, Courchevel and Meribel (with Orbx), not to mention Vienna, Zell Am See, Kos, Berlin Tegel and many more to come.
Art, lighting, animation, meshes — our work is evident in many of the 3D landmarks and airports you'll find in products from multiple developers. And that is for one simple reason: Our team is comprised of some of the most experienced people in the industry, experts not only in creating stunning environments but also seamlessly integrating those updated elements into the default surroundings. We are able to adjust quickly to any development pipeline and deliver large-scale projects in fairly short time periods, without any compromise to quality.
Check out their other amazing products for MS Flight Simulator here: gaya-simulations.com
Berlin/Tegel | EDDT
Vienna Airport | LOWW
Zell am See | LOWZ
Kos Airport | LGKO
Rio de Janeiro | in-development
and many more!
All airports available via orbxdirect.com 
World Update #1 – Let's discover Japan!
After last week's announcement from Microsoft, Microsoft Flight Simulator has been updated to version 1.9.3.0. The new update primarily focuses on the Japan 'World Update', but also adds a range of quality of life improvements to the flight simulator.
Starting with the Japan 'World Update', the World Update brings updated digital elevation across the entire region along with high-resolution 3D photogrammetry for six Japanese cities. Those cities include Sendai, Takamatsu, Tokushima, Tokyo, Utsunomiya and Yokohama. Alongside that, six hand-crafted airports have also been added to the simulator including Hachijojima, Kerama, Kushiro, Nagasaki, Shimojishima, and Suwanosejima. In addition to the cities and airports, there are also over 20 landmarks and points of interest to go and discover in the Land of the Rising Sun.
Whilst many will be excited about World Update I, there are also a huge number of changes with this build based on community feedback. Airports such as Malaga Airport (LEMG) and Clermon-Ferrand Auvergne (LFLC) have been added and there have been improvements to 60 other airports based on feedback. There has also been significant changes for numerous aircraft including the 787-10, the A320NEO and a variety of general aviation aircraft. For those using TrackIR, you are now able to enable/disable it from the camera menu. Other update changes include improvements to the way in which waves are generated, as well as other terraforming issues around the world. A full list of all the changes can be found down below, or you can read the notes on the Flight Simulator forums.