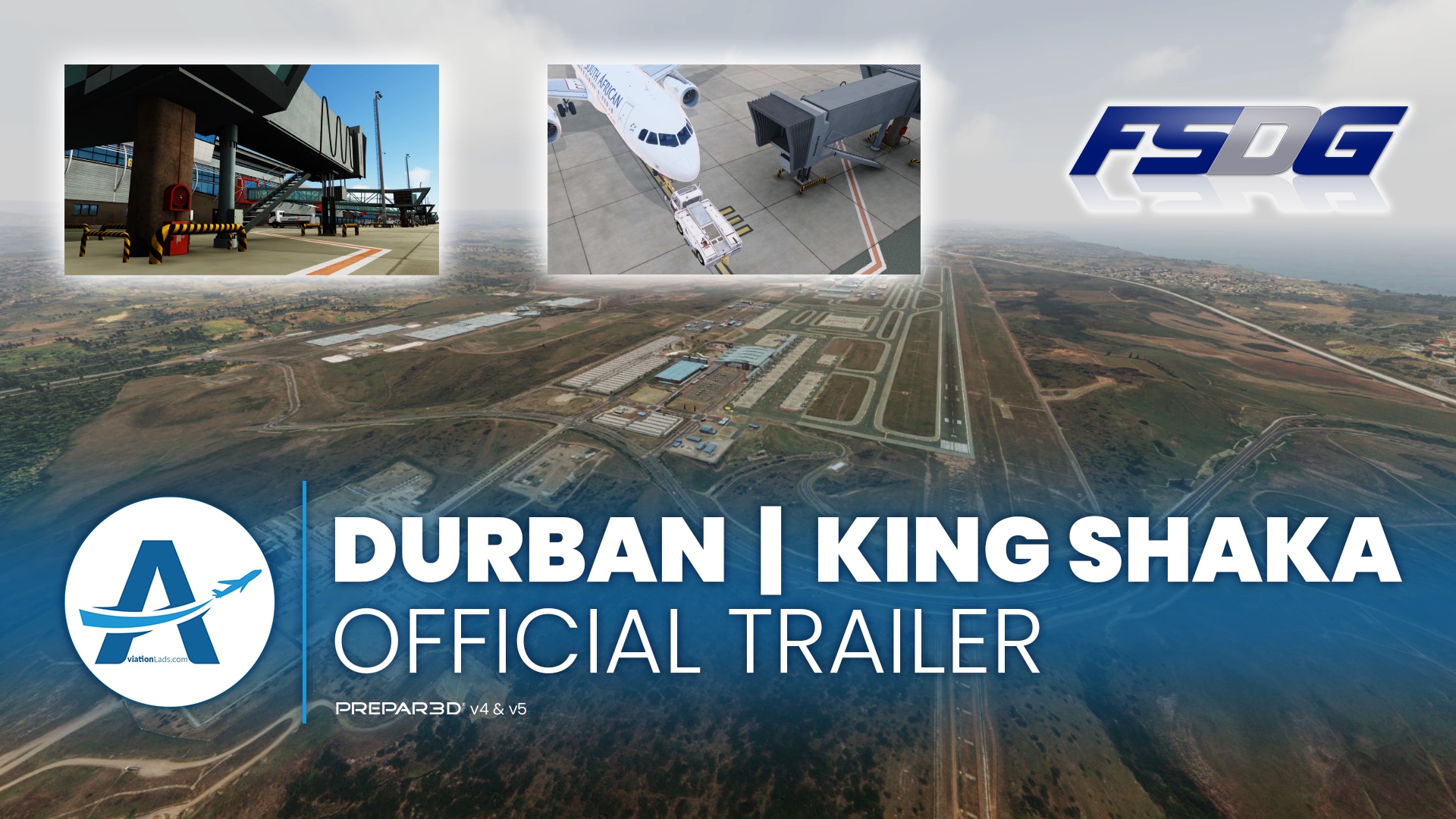 [TRAILER] FSDG – Durban | FALE
King Shaka International Airport, Durban | FALE, DUR
South Africa! King Shaka International Airport is the primary airport serving Durban, South Africa. Located in La Mercy, KwaZulu-Natal, approx. 35 km north of the city centre of Durban, it opened it's doors to passengers on 1 May 2010, just over a month before the start of the 2010 FIFA World Cup. It replaced Durban International Airport (FADN) and uses the same IATA airport code. Altough the larger airport was built to grow the area's international services, it is also a key airport for domestic services throughout South Africa, serving the 'Golden Triangle' between Cape Town International Airport (also available at fsdg-online.com), O. R. Tambo International Airport in Johannesburg.
The largest aircraft Durban currently has scheduled services for is the Boeing 777-300ER, with Emirates operating Dubai-Durban, despite the fact that KSIA's runway length and terminal were designed to theoretically handle regular large airliners. Also Turkish Airlines announced a new international service to Istanbul and Qatar Airways announced the commencement of service to Doha Hamad Intl. British Airways used the airport for training flights with the Airbus A380-800 back in 2014.
Airlines and destinations:
Air Mauritius: Mauritius
Air Namibia: Gaborone, Windhoek-Hosea Kutako
British Airways: Cape Town, Johannesburg, London-Heathrow, Port Elizabeth
Emirates: Dubai Intl. Airport
FlySafari: Cape Town, East London, Johannesburg, Port Elizabeth
Mango: Cape Town, Johannesburg (both airports)
Qatar Airways: Doha Hamad Intl. Airport
South African Express: Johannesburg-O.R. Tambo, Port Elizabeth
Turkish Airlines: Istanbul
And a few more airlines.
Total passenger movements 2018-2019: 5,993,161
MAIN FEATURES
Accurate rendition of King Shaka International Airport, Durban, South Africa (FALE) and surroundings
Realistic shadow and light rendition
Optimized for great performance and visuals
Animated ground traffic
New terminal and ground layout included (FOXTROT Apron + BRAVO taxiway under construction in real life)
Compatible with SODE/GSX jetways
Compatible with Orbx openLC Africa and FTX Global
Compatible with all known add-ons including AES, GSX, UTX, FS Global and the ftx series
Manual included
And much more….
MINIMUM SYSTEM REQUIREMENTS
3D Graphics Card with min. 1GB Memory
3,0 GHz Processor (Dual Core Processor Recommended)