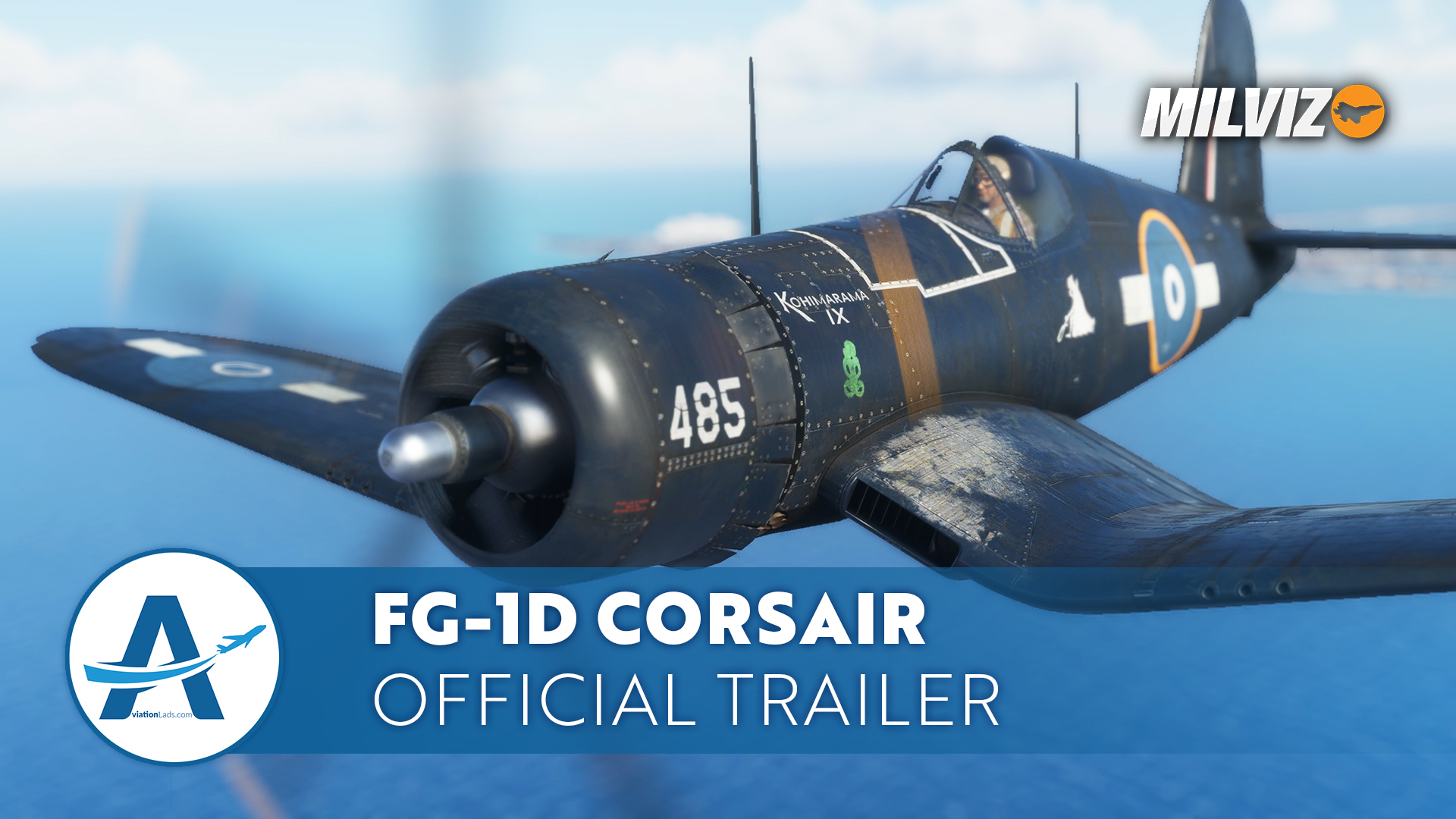 [TRAILER] MilViz FG-1D Corsair
MilViz Military Visualizations released their highly accurate rendition of the Corsair FG-1D aircraft! Get ready to explore this in Microsoft Flight Simulator 2020!
FG-1D Corsair for Microsoft Flight Simulator
One of the most iconic aircraft from the Pacific theatre of WWII, the Corsair was also arguably one of the best performing. Deployed primarily with the US Marines, the aircraft achieved a staggering 2,140 air combat victories against 189 aerial losses – an overall kill ratio of 11:1. The Corsair also carried over 70% of the total bombs dropped by US fighter aircraft during that conflict, flying just over 64,000 sorties combined.
It's really no surprise that such feats required an exceptional aircraft, which the Corsair indeed was. Powered by the 2000 hp R-2800 Double Wasp coupled to a huge three blade propeller that measured 13 feet and 4 inches, the aircraft was a fair bit faster than the F6F Hellcat and only slightly slower than the P-47 Thunderbolt, with the difference more than acceptable considering that top speed on the P-47 was reached at an altitude of 30,000 feet, while the supercharged Corsair reached it's maximum speed at 19,900 feet!
Our Corsair is loosely based on a FG-1D that was produced too late for active service in WWII; BuNo. 92132 spent its naval career in the Reserves before it was retired in 1957. Brought back to life in the 70's for a brief stint in the television show Baa Baa Black Sheep (later syndicated as Black Sheep Squadron), this particular aircraft then languished again for a few decades before being acquired by the Tri-State Warbird Museum in Batavia, Ohio, where it is now being lovingly restored to original condition.
Find out more here: Milviz.com
Splendidly Superior.
One of the most visually distinctive fighters developed during the Second World War, this famous fighter-bomber with its iconic inverted gull wing is ready for deployment and eager to grace your simulated skies.
Created exclusively for Microsoft Flight Simulator 2020, our Corsair features an intricate flight model, gorgeous high definition textures, and an extremely detailed 3D model.
MAIN FEATURES
Custom soundset provided by SimAcoustics
Painstakingly modelled internal and external models
In-depth systems simulation from the real flight manual
Realistic and accurate flight dynamics
21 HD liveries †
War Emergency Power (water injection)
Accurately modelled supercharger
Modelling of heat induced engine failures
Dive Brake
Atmospheric night lighting and external light effects
Highly-detailed product manual included
MSFS 2020 Interactive check-lists for all normal procedures
Configurable optional external fuel tanks
Interactive chartboard loadout utility with moving map
Optional cockpit weapons systems *
Selection of weapons configurable via custom chart-board utility *
Accurately modelled armament mass-loss on weapons discharge *
Gun flashes *(† some liveries not available in MSFS2020 Marketplace version)
(* not available in MSFS2020 Marketplace version)
MINIMUM SYSTEM REQUIREMENTS
Supported Operating System: Windows 10

Processor:
Intel i5 or AMD equivalent 2.6 Ghz or higher

Memory:
16 GB RAM

Graphics:
DirectX®11 compliant video card
8 GB video RAM or higher

Important:
All MilViz products require a functioning gaming controller such as a joystick for proper operation.