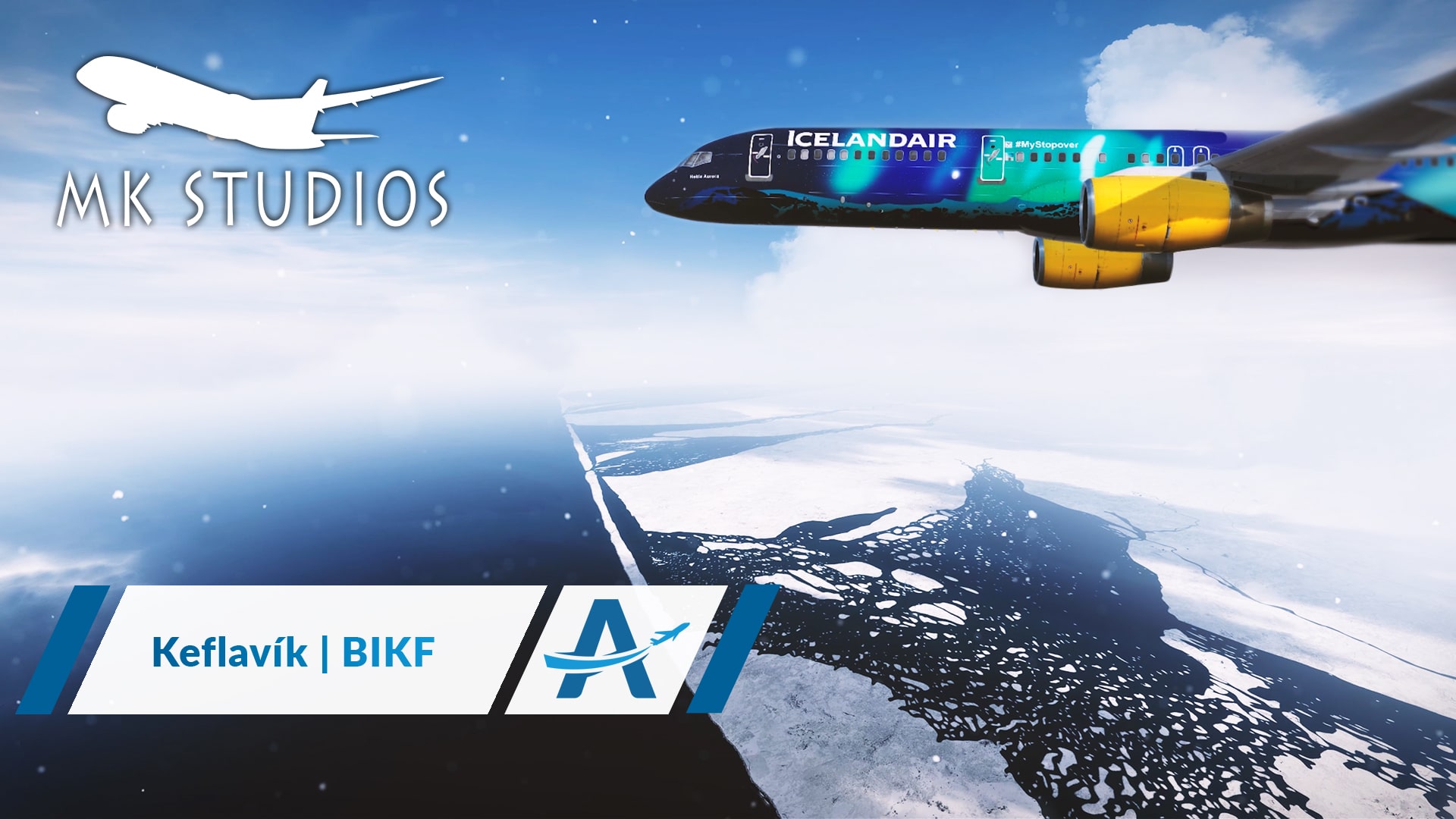 [TRAILER] MK-Studios – Keflavík | BIKF
We proudly present you the Official Trailer for the latest scenery by MK-Studios.
Reykjavík–Keflavík Airport | BIKF, KEF
Let's discover Iceland! Keflavík Airport, also known as Reykjavík-Keflavík Airport, is the largest airport in Iceland and the country´s main hub for international transportation (pax + cargo). The airport is 3.1 km west of Keflavík and 50 km southwest of Reykjavík. The airport has three runways, two of which are in use, and the airport area is about 25 sq km.
Although the population of Iceland is only about 350,000, there are scheduled flights to and from numerous locations across North America and Europe. The largest carrier operating out of Keflavik is Icelandair. The following airlines (even more!) operate regular scheduled and charter services to and from Keflavík:
airBaltic, Air Canada, American Airlines, Austrian Airlines, Atlantic Airways (to MK-Studios Vágar), British Airways, Czech Airlines, Delta Air Lines, easyJet, Edelweiss Air, Eurowings, Finnair, Iberia Express, Icelandair, Jet2.com, Luftahnsa, Norwegian Air Shuttle, Scandinavian Airlines, Transavia, TUI Airways, United Airlines, Vueling, Wizz Air, …
Passenger numbers:
| | |
| --- | --- |
| Year | Pax Number |
| 2017 | 8,755,352 |
| 2018 | 9,804,388 |
| 2019 | 7,247,820 |
MAIN FEATURES
Highly detailed rendition of Keflavik airport and it's surroundings
Simplified BIGR, BIAR and BIIS airport renditions
Orbx Global Iceland Demo compatible (recommended to use)
Up to date ground layout and stands according to the real world changes
50cm/pixel satellite resolution for the approach area and airport
Mesh coverage for the airport surroundings
Accurate and detailed airport infrastructure based on real sizes and dimensions
Detailed AFCAD adjusted for AI addons
Over 10,000 accurately placed autogen buildings and vegetation
PBR implementation for taxiways and runways
PBR implementation for the airport buildings
PBR precipitation and snow effects
Terminal interior model (simplified for maximum performance)
Very realistic night lighting with directional taxiway center line lights, approach lights including correct brightness and weather/time based visibility conditions
Optimized Dynamic Lightning
Realistic shadow rendition on all 3D objects and on the ground
Compatible to all major traffic add-ons
SODE jetways, SODE VDGS and windsocks supported
ORBX Global/Vector/Open LC compatible
Optimized to take advantages of new P3D V4.5 HF2 (or later) features.
MINIMUM SYSTEM REQUIREMENTS