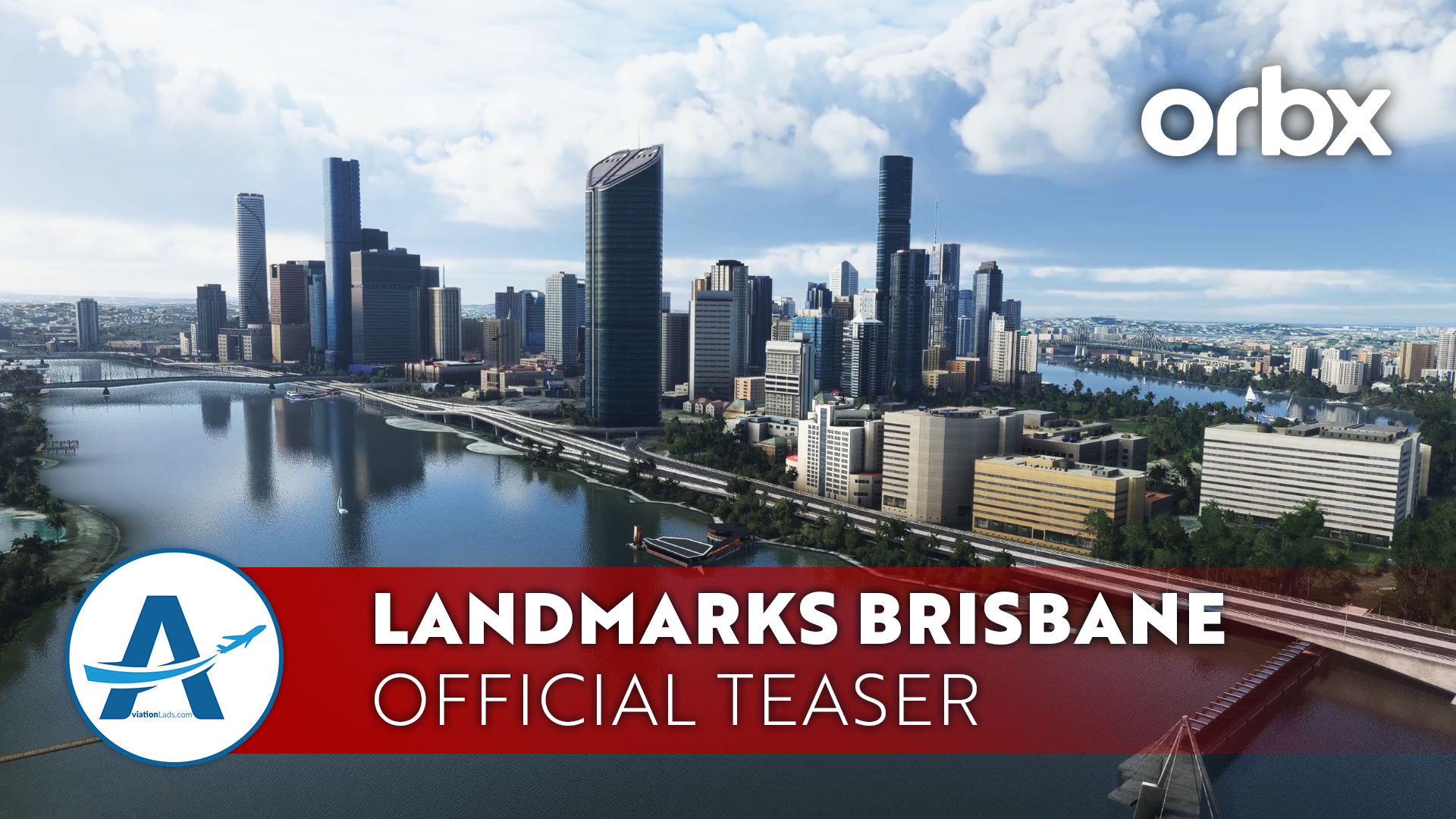 [TEASER] Orbx Landmarks Brisbane
ORBX releases Landmarks Brisbane! Get ready to explore this in Microsoft Flight Simulator 2020!
Landmark City Packs – Brisbane for Microsoft Flight Simulator 2020
Landmarks Brisbane City Pack is an exciting new addition to our top selling Landmarks and Cityscape series for Microsoft Flight Simulator, which includes classic locations such as Sydney, Singapore, London and Paris.
Being one of the most popular destinations in Australia, this river city is known for its amazing climate, subtropical alfresco lifestyle, and proximity to major tourist hotspots in Queensland.
Soak in the atmosphere as you soar above over 120 custom-made landmarks and discover this cosmopolitan destination in true Orbx style.
Iconic landmarks include Brisbane Skytower, Suncorp Stadium and The Gabba. We have also included the Riverside Expressway bridge system on the western side of the CBD.
For those looking to discover the most scenic side of Brisbane, we recommend flying along the famous Brisbane River. This laid-back flight along the waterfront is full of charming marinas, moored boats and even the New Farm Riverwalk.
Beyond the city, fly over Fisherman Island, a port which sits just a few miles from Brisbane Airport, and offers views of Brisbane's industrial area.
As the sun sets over the Port of Brisbane, experience our custom night-lighting inspired by real-world photography for the most realistic night flying experience available.
The latest product from the TrueEarth team brings the relaxed and chilled-vibes of Brisbane to Microsoft Flight Simulator for all to enjoy.
Being back in Australia has never looked so good!
Expand your horizons with the Orbx experience today!
MAIN FEATURES
High-detailed landmarks depicting Brisbane Tower, Suncorp Stadium, The Gabba and the Riverside Expressway bridge system
Fly along the famous Brisbane River; known for charming marinas, moored boats and the New Farm Riverwalk
Fisherman Island represented in stunning detail, including advanced terraforming for a seamless experience
122 custom-made objects and buildings to highlight some of Brisbane's famous chilled vibe and artistic culture
Developed by the esteemed team behind Landmarks Singapore and Landmarks London
Perfectly matched with our upcoming YBBN Brisbane Airport for Microsoft Flight Simulator
MINIMUM SYSTEM REQUIREMENTS
Supported Operating System: Windows
Prerequisite Products: none